About
The Vintage Golfer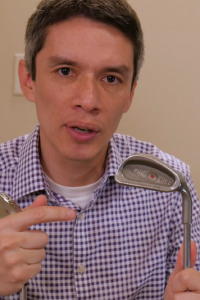 I am an avid golfer, not a good golfer. Equipment is far more interesting than my silly swing. My love for equipment is the main, if not the only, reason I've collected so much information.
During my college days I spent five years building custom clubs. Most of these were for high school aged kids who had parents that just did not want to buy them expensive name brand clubs. There was also the occasional golf enthusiast that wanted a custom fit set on a budget.
When I went to find information about vintage clubs online it was shocking how little I could find. So I thought if I'm starting this adventure I might as well document it.
I have always been fascinated with older golf equipment. I hope this site is interesting to you and good luck on the course!
---
Jon Hobby
Jon is just some guy on YouTube that likes to talk a lot.

He lives and parties in Georgia.
Some of his favorite stops include the beach, Las Vegas and the golf course.
Golf and gambling are two of his favorite pastimes. Visit the Hobbyphilic site for more about his gambling hobbies.
Current Production
The Vintage Golfer is on a couple official channels.
I will update this website when I have time, but don't expect that to be very often. Exploring rare, off brand, store brand, small brands or knock off clubs may never happen. I have hope I will start researching vintage clubs, pre WWII, at some future date.
Website
This website was made with a template from freewebsitetemplates.com. To thank them for saving me tons of time I would encourage you to have a look at their site.